Attention bowlers: T
From USBC: As of 8/8/2020, no hole that is not used by a grip finger is permitted in the ball.  See USBC specifications at Bowl.com. 
Bucks County USBC would like to Congratulate our 2021 Scholarship Winners.
Jackson Ryan and Jonathan Pollison. Both will receive a $1000. Scholarship, which has been directed to their USBC Smart Accounts. Congratulations to both Winners, and best of luck in your futures.
Erick Ziegler
President BCUSBC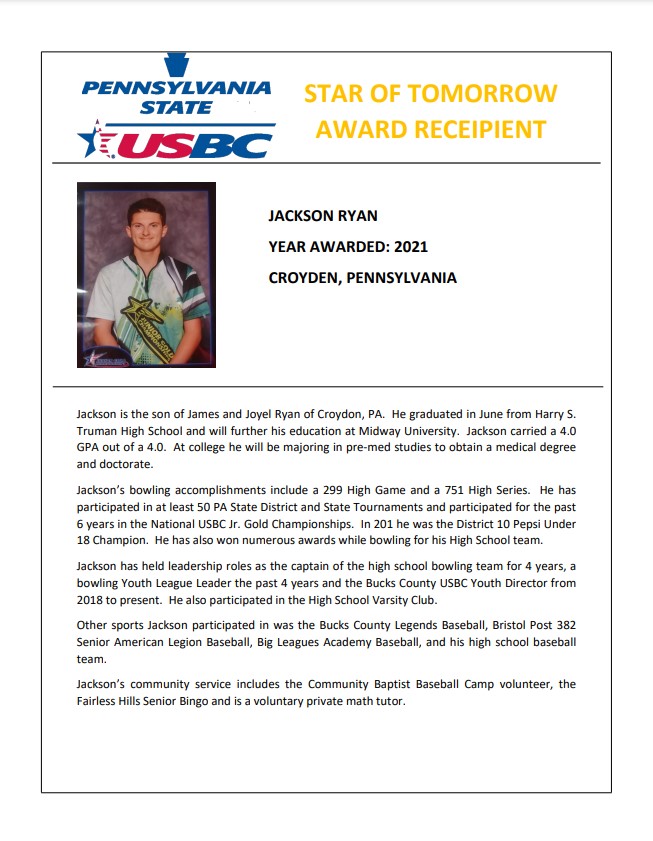 To register please go to tournament registration.
Highlighted Box is the most recent results.
Youth Open Championship Tournament
Application Download


Tournament Results




Tournament Prize List
Click on the bowling center name to go directly to their website for further information.
2501 Bristol Pike, Croydon, PA 19021
Phone: (215) 788-0453
36 Lanes - Certification #10315
General Manager: Rich Wierzbowski
House Director: Brian Strong, Chris White
100 East Street Road, Feasterville, Pa 19053
Phone: (215) 322-7755
48 Lanes - Certification #20857
General Manager: Dennis Smith
House Director: Erick Ziegler
81 N. Delmor Ave., Morrisville, PA 19067
Phone: (215) 295-2919
16 Lanes - Certification #7214
Proprietor: Craig McClister
House Director: Regina Wallace
1675 Pennington Rd, Ewing, NJ 08618
Phone: (609) 882-0661
12 Lanes - Certification #4154
Proprietor: Chip Slocum
House Director:  Thomas Gamble, Michelle Heck
625 Nolan Ave., Morrisville, PA 19067
Phone: (215) 295-5526
12 Lanes - Certification #0783
Proprietor: Vince Lucci III, Pat Lucci
House Director: Pat Matzer, Trish Miller
449 W. Lincoln Hwy. Penndel, PA 19047
Phone: (215) 757-9718
24 Lanes - Certification #3023
Proprietor: Dave Strippoli
House Director: Nicole Swartz
121 Second Street Pike, Southampton, PA 18966
Phone: (215) 357-1899
12 Lanes - Certification #2836
Proprietor: Rachel Wilf
House Director: Stan Stawicki
5830 Castor Ave., Philadelphia, PA 19149
Phone: (215) 743-2521
 16 Lanes - Certification #5208
Proprietor: Brenda Ledoux
House Director: Loretta Foster Irving
3075 Holme Ave., Philadelphia, PA 19136
Phone: (215) 464-7171
36 Lanes - Certification #11943
Proprietor: Scott Hughes
House Director: Pat Hamill, Chris White
1475 W. Street Rd., Warminster, Pa 18974
Phone: (215) 674-8250
32 Lanes - Certification #
Proprietor: 
House Director: